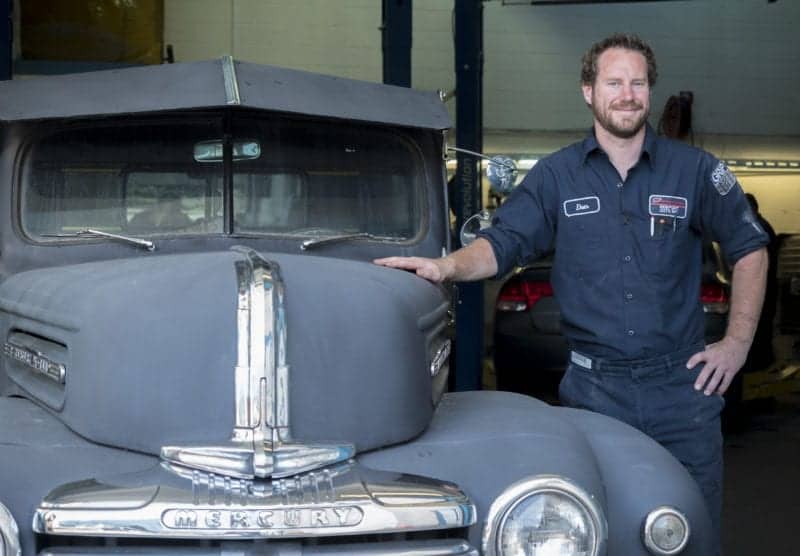 The Newport Auto Inc., vision is to deliver fair and honest customer service and quality workmanship. Customer care is our priority.
Newport Auto Inc provides complete custom retail automotive mechanical maintenance, repair, and fleet service, as well as tire sales from our Squamish, British Columbia, CANADA location to the Sea to Sky corridor since 2000.
Our staff's commitment is to abide and support Newport Auto Inc's approach to customer service.  Newport Auto Inc is committed to meeting all customer-approved quotes and delivering the vehicle on time.  We believe that a client is a frequent, loyal, reasonable, and profitable individual to do business with.  We distinguish our clients from general customers in that the latter are a new or infrequent patron of our business.  Newport Auto Inc aims to turn most customers into clients.
At Newport Auto Inc we are committed to reducing our impact on the environment by Reducing, Reusing, and Recycling.  We acknowledge that the automotive business is not a "green" business, but we also have one of the greatest opportunities to reduce impact on the environment by assisting motorists to be environmentally aware. We manage used tires, fluids, filters, fluid containers, coolant, batteries, mercury switches, parts packaging, metals, parts, and thermostats for our clients so they do not have to deal with the environmentally hazardous materials left over from repairing and maintaining their vehicle.  We can assist motorists by maintaining their vehicles to operate with lower environmental impact and, when appropriate, for more kilometers. This reduces the footprint of replacing their vehicle before its expected life cycle.
Think globally, act personally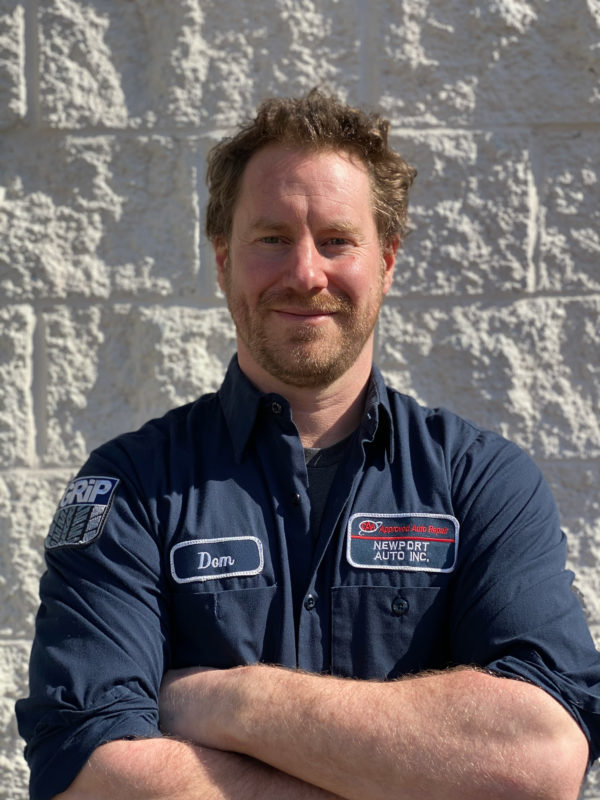 Dom, an Audi/VW extraordinaire, took over Newport Auto ownership in April 2019 when he wanted to take his career to the next level after working at an automotive shop in Whistler for several years. Originally from England, Dom has been around cars since he was young, spending time at his Dad's shop. Dom did his apprenticeship at Peugeot in the UK before moving to Audi for seven years, earning his Red Seal Certification and Vehicle Inspectors License, before moving to Canada in 2012.
Dom's favourite thing about Newport Auto is that everyone has their individual strengths, which creates an exciting and educational place to work. When his head isn't deep in an engine, you'll find Dom Sledding, Skiing, Dirt Biking or Mountain Biking, or dreaming about his ideal car, an Audi RS4 imported from Germany.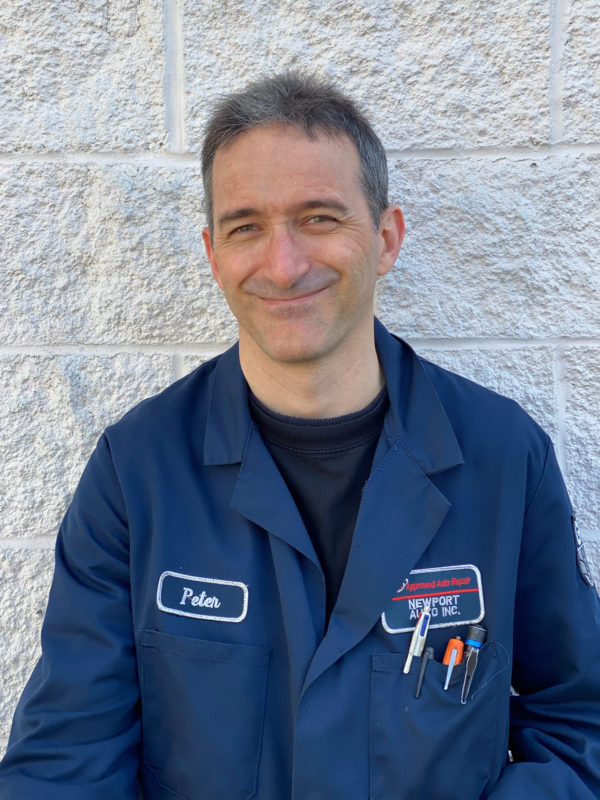 Automotive Repair Technician
Our longest-serving employee, Peter, originally from Salt Spring Island, has worked at Newport Auto for 20 years.
Peter lives and breathes cars. His passion started at age 16 when realizing he couldn't afford to keep putting his car in the shop and decided to start learning how to fix it himself. After gaining high school work experience as the Shop Help, Peter did his apprenticeship, tire repair, and Red Seal at Salt Spring Esso (which became Payless). He then moved to Squamish in 2001 and started working at Newport Auto by knowing the owner at the time through the local car club.
His keen interest in puzzles has found him focussing on electronics. He loves problem-solving so much that when cars come in that are destined for the wreckers, through education, research and a lot of YouTube videos, Peter has saved a fair few in his time. He's even kept his '68 Datson 510 running since he was 17. It turns out when Peter was a child, he wanted to grow up to become a detective, we can definitely see that! When not all consumed with a head-scratcher, Peter loves to enjoy the beauty of Squamish and getting outside to hike and work on his photography skills.
So if you have a vehicle that has seen better days, don't give up on it - get Peter on it!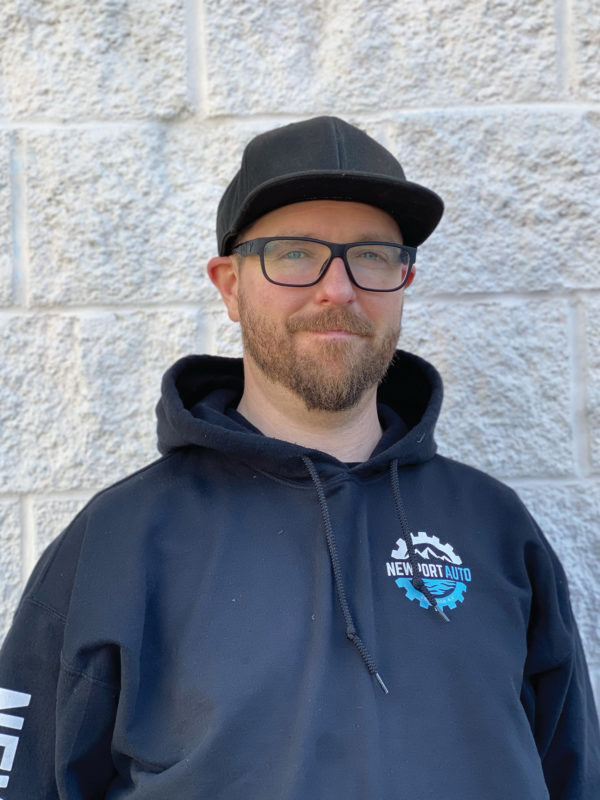 Automotive Repair Technician
Clyde grew up around cars as he's originally from Windsor, Ontario, also known as Motor City. Like many before him, Clyde moved to Whistler to Snowboard, and after travelling around the world, including living in Tokyo, he finally settled in Squamish.
Clyde graduated top of his class at BCIT and completed his apprenticeship at Newport Auto. After working at other shops in the area, he returned to Newport Auto four years ago, where he values the atmosphere and comradeship.
A very clever all-rounder, Clyde likes to mix things up and work on different vehicle types. Still, when we made him choose, electric diagnostics and suspension were his favourites, and his peers have told us he has excellent fabricating skills.
Clyde likes to snowboard when not working, build computers, skateboard, and, most importantly, spend time with his family.
His dream car… a Subaru WRX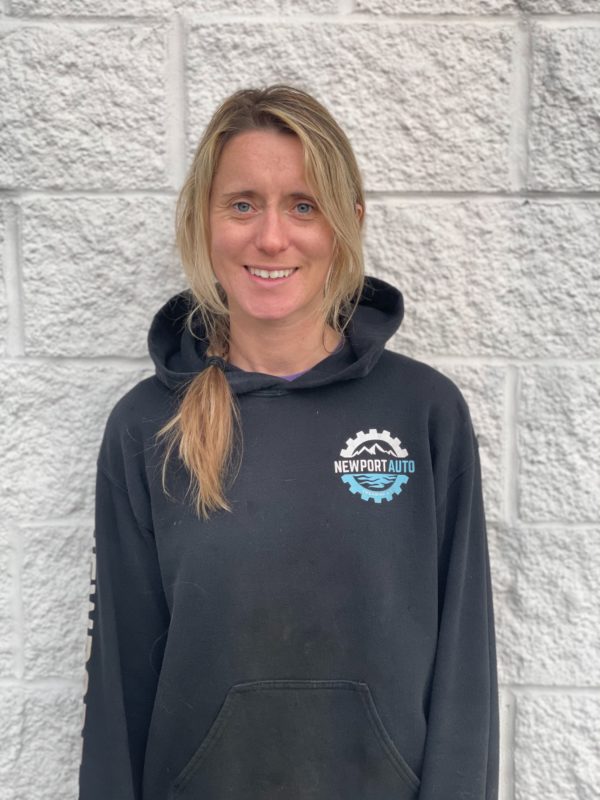 Automotive Repair Technician
Rose joined the team in August 2019 after working with Dom for years in Whistler and England. Rose always knew she wanted to be a mechanic since the age of 14 but has taken a few paths to get here. With the lack of apprenticeship options as a school leaver, she took a clerical role in an Audi dealership for several years before moving to Canada.
Missing the mechanic life, Rose found herself managing a shop in Whistler, but her passion was always in the back with the tools. When Dom took on Newport Auto, he invited her to apprentice, and now Rose has just completed her first of four years required to gain her Red Seal qualification and started her 2nd year last September. Rose has always dabbled in Mechanics through hands-on learning on the side but is stoked to finally get to do her passion full time and enjoy learning the theory behind it.
Rose, the Jane of all trades, is hardworking, strong and fits in perfectly at Newport Auto. When not working, Rose likes to hang with her Husky dog Fig, Sledding, Dirtbiking, Mountain Biking and travelling the world (pre-covid). Rose's favourite car is the Aston Martin Vanquish, but she is saving her pennies for a more practical Ford F-350 6.7 Diesel to fit all her adventuring needs.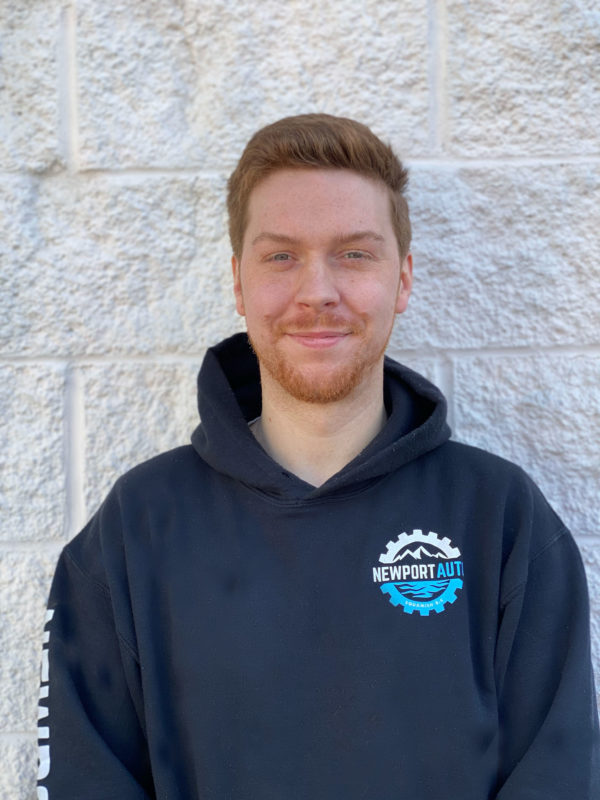 Norbert joined the team in November 2020. Norbert is often the voice behind the phone, your Service Advisor. Originally from Hungary, Norbert moved to Squamish in 2010 when his parents moved here. Although he's new to the mechanic industry, Norbert is a pro in customer service after working as a bartender for nine years. His move into mechanics came after one of the regulars at his bar offered him a job at Dodge. After a stint working in fabrication, Norbert was introduced to Newport Auto through Clyde (you can read his bio here). Norbert loves coming to work every day, is constantly working on his vehicle, and hopes to take on some courses to expand his knowledge and skills.
What Norbert likes most about Newport Auto: the atmosphere, honesty, and sense of trust; he appreciates the customer comes first mentality, giving the customer what they need rather than pushing sales. In addition, he finds working with Dom (Owner) and the team a joy, with everyone going out of their way to help each other.
His favourite car is a Nissan Skyline R34. He spends his free time hiking, going on road trips, camping and playing video games.